Friday October 22, 2021
Finances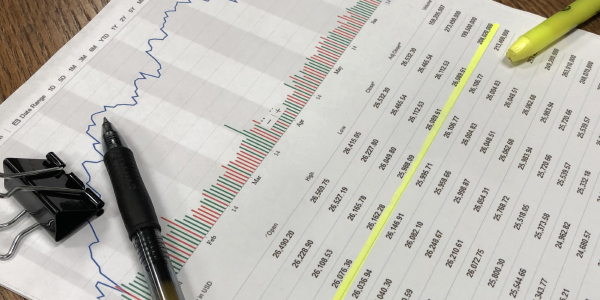 Campbell Soup Reports Earnings
Campbell Soup Company (CPB) released its latest earnings report on Wednesday, December 9. The company's sales benefitted from increased demand as winter approaches.

Net sales came in at $2.34 billion for the quarter, up from $2.18 billion in net sales during the same quarter last year. This beat analysts' estimated net sales of $2.32 billion.

"Fiscal 2021 is off to a strong start with first-quarter sales growth across both divisions and double-digit gains in EBIT and EPS," said Campbell's President and CEO Mark Clouse. "Our Meals & Beverages division continued to drive impressive sales and margin growth as we positioned our brands to align with macro consumer trends, and retailers rebuilt inventory for the holidays and the heart of soup season."

The company reported quarterly net income of $309.0 million, or $1.02 per share. This was up from $166.0 million in net income, or $0.56 per share at this time last year.

Campbell's rise in sales comes at a time when consumers are spending more time at home and many have decided to stock up on long-lasting shelf-stable items. The company's Meals & Beverages segment, which includes its line of soups as well as Prego pasta sauce and V8 beverages, posted a 12% increase in revenue. The Snacks segment, which includes Pepperidge Farm and Pop Secret, reported a more modest 1% revenue increase.

Campbell Soup Company (CPB) shares ended the week at $47.21, down 2.9% for the week.


Stitch Fix Posts Earnings

Stitch Fix, Inc. (SFIX) released its latest quarterly earnings on Monday, December 7. The online retailer reported strong sales growth.

The company's net revenue for the quarter was $490.4 million. This was up 10% from revenue of $444.8 million during the prior year's quarter.

"In Q1, we delivered $490 million in net revenue, reflecting 10% year-over-year growth, and grew our active client count to nearly 3.8 million, reflecting 10% year-over-year growth," said Stitch Fix Founder and CEO Katrina Lake. "This quarter we are proud to have achieved several multi-year highs, including our highest sequential client addition on record and the highest level of successful first Fixes in the past five years."

Net income came in at $9.5 million for the quarter. This was up from a net loss of $178,000 during the same quarter last year.

Stitch Fix reported nearly 3.8 million active clients during the quarter. Net revenue per active client reached $467. The company noted in its earnings release that its success is attributable in part to improvements to its "personalization engine." Stitch Fix clients receive periodic customized deliveries of clothing. Those deliveries, called "Fixes," are curated by a stylist assisted by a computer algorithm.

Stitch Fix (SFIX) shares ended the week at $60.06, up 69.2%.


Chewy Reports Earnings

Chewy, Inc. (CHWY) released its latest earnings report on Tuesday, December 8. The company's revenue increased 45% year-over-year.

Revenue came in at $1.78 billion for the quarter. This was up from $1.23 billion in revenue during the same quarter last year.

"Chewy's relentless focus on execution and inventiveness resulted in record net sales and another quarter of positive adjusted EBITDA," said Sumit Singh, Chief Executive Officer of Chewy. "Over the past few quarters, our team has been hard at work to reformat our proprietary brands and overall assortment strategy by introducing compelling merchandise, improving discoverability, and delivering a tremendous value proposition for our customers."

The company reported a $32.8 million net loss for the quarter. This was an improvement of 58.4% over a $79 million net loss last year at this time.

Despite strong increases in revenue, the Chewy's bottom line remains in the red. The company expects to continue to chip away at that deficit with continued strong revenue in the coming months. Chewy expects net sales between $1.94 billion and $1.96 billion in the fourth quarter, representing 43% to 45% growth.

Chewy, Inc. (CHWY) shares ended the week at $46.59, up 1.0% for the week.

The Dow started the week at 30,233 and closed at 30,046 on 12/11. The S&P 500 started the week at 3,695 and closed at 3,663. The NASDAQ started the week at 12,461 and closed at 12,378.

Treasury Yields Drop
Yields on U.S. Treasurys dipped toward week's end as Congress negotiates over a potential next round COVID-19 stimulus bill. The struggle to put forth a new relief bill comes as regulators take a critical step in approving a highly-anticipated vaccine.

On Thursday, Senators Bernie Sanders and Josh Hawley introduced an amendment which would include direct payments to individuals in the latest relief package. The plan would include an additional $1,200 payment to adults with $500 per qualifying child.

"It would be a dereliction of duty if Congress adjourns for Christmas without having a vote on providing working families with direct payments," said Sen. Hawley. "Working people are struggling. And they should be the first people given relief, not last."

After peaking at 0.972% on Monday, the benchmark 10-year Treasury note yield receded to 0.887% during trading on Friday. The 30-year Treasury bond was at 1.626% after reaching a high of 1.743% on Monday.

Also on Thursday, an FDA's panel voted 17-4 to advance the Pfizer-BioNTech COVID-19 vaccine to the next stage of the approval process. If approved for emergency use, distribution of the vaccine could begin almost immediately.

"The American public demands and deserves a rigorous, comprehensive and independent review of the data," said Doran Fink, Deputy Director of the FDA's Division of Vaccines and Related Products. "That is what FDA physicians and scientists, all of us career public health servants, have been doing over days, nights, weekends, and, yes, over the Thanksgiving holiday."

The 10-year Treasury note yield closed at 0.89% on 12/11, while the 30-year Treasury bond yield was 1.63%.

Mortgage Rates Hold Steady
Freddie Mac released its latest Primary Mortgage Market Survey on Thursday, December 10. The report revealed rates remaining in place from last week.

The 30-year fixed rate mortgage averaged 2.71% this week, unchanged from last week. Last year at this time, the 30-year fixed rate mortgage averaged 3.73%.

This week, the 15-year fixed rate mortgage averaged 2.26%, also unchanged from last week. At this time last year, the 15-year fixed rate mortgage averaged 3.19%.

"Mortgage rates remain at record lows, resisting their typical correlation to Treasury yields, which have recently been moving higher," said Sam Khater, Freddie Mac's Chief Economist. "Mortgage spreads – the difference between mortgage rates and the 10-year Treasury rate – are declining from their elevated levels earlier this year. Although today's mortgage spread is about 1.8 percentage points and still has some room to move down if the 10-year Treasury continues to rise, it's encouraging to see that the spread is almost back to normal levels."

Based on published national averages for the week of 12/7, the national savings rate was 0.05%. The one-year CD averaged 0.16%.
Published December 11, 2020
Previous Articles
Salesforce Announces Acquisition
Best Buy Beats Earnings Expectations
Target's Earnings Hit the Mark